Skepticism and Positivity
Before you read on, ask yourself a clear question: "Is a person's skepticism a positive or negative trait?" Now think about the biggest skeptics in your team and answer the question one more time, but do not confuse skepticism with pessimism!
One thing is for certain – skepticism is a trait both positive and necessary for a team! The reason many of us see skepticism in a negative light arises from a skeptic's difficulty in communicating pleasantly and diplomatically. In order for a team to make the most out of their skeptic, they must first be discovered, then understood and finally communicated with in the proper way.
The analytical skeptic is known to Belbin as the Monitor Evaluator.
Monitor Evaluator - Serious-minded, strategic, discerning
Every high-performing team needs someone who is intelligent, logical, fair-minded, objective and analytical. All these qualities are harbored by the Monitor Evaluator. It is their job to observe things through facts and logic, make impartial judgements and weigh up the team's needs and options. While not the most glamorous of roles, the right decisions of a competent Monitor Evaluator – who is seldom wrong – will ensure the continued prosperity of the team.
Monitor Evaluators are represented by an all-seeing eye. They appear to stand slightly appart from the group, which is not to say they are isolated, but instead maintaining appropriate emotional detachment so as not to deviate from making objective assessments.
Monitor Evaluators are born with an immunity towards excessive enthusiasm. The need to think all things through renders them slow at making decisions, but with a proclivity towards critical thinking, they are able to come to clever conclusions and notice all possible angles. A good Monitor evaluator is seldom wrong.
Function in Team
For analyzing problems and appraising ideas and suggestions, the Monitor Evaluator is the best choice. They are the ones who weigh up the pros and cons of any given option and prevent the team from following ill-considered schemes and lofty ideals, thus saving everyone both time and money.
Monitor Evaluators proovide the team with clear and concise data banks of information that act as the storehouse of the group's labours. Though mostly on the sidelines of the decision-making process, they are the ones who inform the team of gathered results.
For bystanders a Monitor Evaluator can seem dry, boring and even highly critical, and it might be surprising for them to witness one becoming a leader. Despite all of this, many Monitor Evaluators can be found at strategic job positions, and are fully capable of successfully working at higher posts, since succeeding or failing at some positions is dependent on only a few key decisions. Such a place is ideal for the Monitor Evaluator, for one who makes few mistakes usually comes out on top.
Monitor Evaluators in the Workplace
As the anchor keeps a ship from floating away, so the Monitor Evaluator keeps the team's feet firmly on the ground. Being thorough in their analyses requires time and patience, and although some might perceive that as lagging, pressuring a Monitor Evaluator to come to a decision quickly will go unappreciated.
A team's enthusiasm might suffer from the Monitor Evaluator's constant call for facts and information, especially if the team is in the process of looking for new or radical ideas. Then again, they are the ones who feed the team detailed information and keep them apprised on the current status of investigations.
Things might get complicated, however, if there are too many Monitor Evaluators in a team. Imagine a meeting, that is attended by three analytical skeptics. A situation so impractical, there is a term for it: "Analysis paralysis".
Mats Soomre of Belbin Estonia explains why skeptical people are very important and how to recognize their full potential.
Translated from Estonian by Max Mehis Sommer (loe eestikeelset artiklit)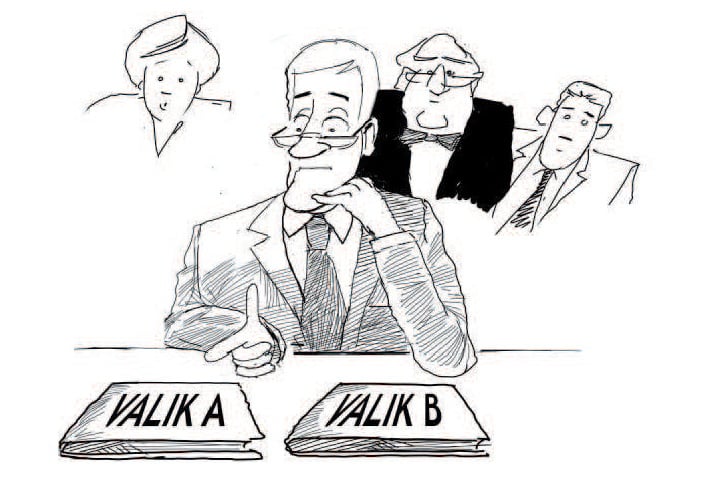 A good Monitor Evaluator knows when criticism is appropriate.
Here is a neat test of any Monitor Evaluator. If your enthusiastic cry of: "I have an idea…" is received with thoughtful nodding, then ten tough questions on how it will work, how much it will cost and whether it has already been done, they're doing the required job as a Monitor Evaluator. On the other hand, if your suggestion is met with: "NO! NO! IT WON'T WORK, I TELL YOU, IT WON'T WORK!" before you're through the door, you're dealing with a pessimist rather than a Monitor Evaluator. The difference? A Monitor Evaluator builds their scepticism on logic; a pessimist doesn't.
Handling
Monitor Evaluators
Intrinsic Reward:
Clarity and comprehension
Needs:
Constant inflow of information
Ideal Placement:
Analytical and advisory roles
Decisions about the long-term
Illustration of goals
When Missing:
Decisions not properly considered
Decisions based on emotion
Constant rethinking
Lack of impartial considerations
Plans lack strategic breadth
Allowable Weaknesses:
Lack of enthusiasm
Inability to inspire others
Criticism and skepticism
Non-Allowable Weaknesses:
"Is skepticism a positive or negative trait?" by Mats Soomre
Subtitles in English available.
Handling Monitor Evaluators
DO NOT …
… discourage them with enthusiasm and social pressure
… await swift decisions or immediate approval of ideas
… try to convince them with emotions or cleverness
… expect much in the way of eagerness or emotion
TRY TO …
… consult them when complicated decisions need to be made
… ask open questions to get them talking
… give them enough time to calmly think things over
… leave them a lot of space
Value their decisions and the information you receive from them. And if it should ever occur that a Monitor Evaluator gives a swift positive response to an idea you came up with, thank them and start working on that idea immediately, for that must have been a great one!
Read more on the topic
Assertiveness is one of the most important skills for teamwork, the presence of which – or lack thereof – we only notice once the situation has gotten tense, interpersonal relationships are on the brink, differing opinions among teammates abound and emotions are boiling.